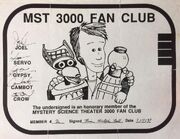 The Mystery Science Theater 3000 Information Club, alternately styled "MST 3000 Information Club" or "MST 3K Info Club" on-screen or "Mystery Science Theater 3000 Fan Club", "MST 3000 Fan Club", or "MST Fan Club" on club mailings, colloquially known among fans as the "Info Club", was the official Mystery Science Theater 3000 fan club operated by Best Brains, Inc. from March 1989 to October 2007.
Address
The Info Club's mailing address, now inactive, was:
MST 3K Info Club
P.O. Box 5325
Hopkins, MN 55343
The address was displayed on-screen at multiple points during every episode from Season 1 through Season 10. During the first several seasons of the show, the characters would read select letters from viewers at the end of most episodes.
Membership
Fans who sent letters to the show were added to the Info Club, as well as fans who got in touch with Best Brains via email or other online message asking to be added.
Info Club members received a membership certificate and/or card (with unique membership number) and welcome letter, and were subscribed to the hard-copy Satellite News newsletter until it went online in 1997. They also received mail-order catalogs of merchandise related to MST3K and Best Brains, most of which was never made available elsewhere, through the 2006 Holiday season.
Poobahs
For most of its existence the Info Club was operated by the Info Club Poobah, an employee of Best Brains listed in the show's credits. In addition to operating the Info Club, the Poobah was also in charge of posting official announcements and interacting with fans online.
From 1993 to 1996 the Info Club Poobah was Julie Walker, also known as "juliewa." After Walker left in 1996 the position was taken over by Barb Tebben, known as "Barbbb."[2]
End
The Info Club ceased operations entirely in October 2007, when Jim Mallon relaunched MST3K.com as the official online presence and merchandise catalog of Best Brains.[3] It was not restarted for the Satellite of Love, LLC revival of the series, the production of which has generally used their official MST3K.com website and associated social media for most of the interactive, communicative, and merchandising functions a fan club once served.
References
↑ Image courtesy of Brian Bull, used with permission.
↑ "Barbara Tebben, Info Club Poobah Person Extraordinaire", Satellite News Volume 8.2 (Holiday 1996}