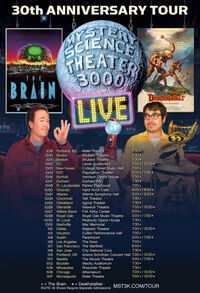 The Mystery Science Theater 3000 Live - 30th Annversary Tour was the second live touring show based on Mystery Science Theater 3000. It kicked off on October 9, 2018 in Portland, Maine.
As with the previous tour, there were be two films featured. At most stops, the film The Brain was riffed, while Deathstalker II was riffed at a variety of stops.
Of note is Joel Hodgson's return in character as Joel Robinson, riffing alongside Jonah Ray's Jonah Heston.
The second feature was originally announced as Deathstalker, the first film in the series. But after reviewing the film and realizing that editing it for content would reduce the run-time too low, Joel decided to replace it with the second film.
The 30th Anniversary tour sees the return of M. Waverly and Growler, as well as the debut of Dr. Donna St. Phibes played by Deanna Rooney.
Tour Schedule
| Date | City | Theater | Film | Notes |
| --- | --- | --- | --- | --- |
| 10/9/2018 | Portland, ME | State Theatre | The Brain | 7:30pm |
| 10/10/2018 | Boston, MA | Shubert Theatre | The Brain | 7:30pm |
| 10/11/2018 | Boston, MA | Shubert Theatre | Deathstalker II | 7:30pm |
| 10/12/2018 | Washington, DC | Lisner Auditorium | The Brain | 7:00pm |
| 10/12/2018 | Washington, DC | Lisner Auditorium | Deathstalker II | 10:00pm |
| 10/13/2018 | New Haven, CT | College Street Music Hall | The Brain | 7:00pm |
| 10/14/2018 | New York, NY | Playstation Theater | The Brain | 3:00pm |
| 10/14/2018 | New York, NY | Playstation Theater | Deathstalker II | 7:00pm |
| 10/16/2018 | Norfolk, VA | Harrison Opera House | The Brain | 7:30pm |
| 10/17/2018 | Durham, NC | Durham PAC | Deathstalker II | 7:30pm |
| 10/19/2018 | Ft. Lauderdale, FL | Parker Playhouse | The Brain | 7:00pm |
| 10/20/2018 | Orlando, FL | Hard Rock Cafe | The Brain | 4:00pm |
| 10/20/2018 | Orlando, FL | Hard Rock Cafe | Deathstalker II | 8:00pm |
| 10/21/2018 | Atlanta, GA | Atlanta Symphony Hall | The Brain | 3:00pm |
| 10/21/2018 | Atlanta, GA | Atlanta Symphony Hall | Deathstalker II | 8:00pm |
| 10/24/2018 | Cincinnati, OH | Taft Theatre | The Brain | 7:30pm |
| 10/25/2018 | Cleveland, OH | Agora Theater | Deathstalker II | 7:30pm |
| 10/26/2018 | Glenside, PA | Keswick Theatre | The Brain | 7:00pm |
| 10/26/2018 | Glenside, PA | Keswick Theatre | Deathstalker II | 10:00pm |
| 10/27/2018 | Wilkes Barre, PA | F.M. Kirby Centre | The Brain | 5:00pm |
| 10/28/2018 | Royal Oak, MI | Royal Oak Music Theatre | The Brain | 3:00pm |
| 10/28/2018 | Royal Oak, MI | Royal Oak Music Theatre | Deathstalker II | 7:00pm |
| 10/30/2018 | St. Louis, MO | Peabody Opera House | The Brain | 7:30pm |
| 10/31/2018 | Nashville, TN | War Memorial | The Brain | 7:30pm |
| 11/2/2018 | Dallas, TX | Majestic Theatre | The Brain | 7:00pm |
| 11/2/2018 | Dallas, TX | Majestic Theatre | Deathstalker II | 10:00pm |
| 11/3/2018 | Houston, TX | Cullen Performance Hall | The Brain | 7:00pm |
| 11/4/2018 | Austin, TX | Paramount | The Brain | 3:00pm |
| 11/4/2018 | Austin, TX | Paramount | Deathstalker II | 7:00pm |
| 11/6/2018 | Los Angeles, CA | The Novo | The Brain | 7:00pm |
| 11/7/2018 | San Francisco, CA | The Warfield | The Brain | 8:00pm |
| 11/8/2018 | San Jose, CA | City National Civic | Deathstalker II | 7:30pm |
| 11/9/2018 | Portland, OR | Arlene Schnitzer Concert Hall | The Brain | 7:00pm |
| 11/9/2018 | Portland, OR | Arlene Schnitzer Concert Hall | Deathstalker II | 10:00pm |
| 11/11/2018 | Seattle, WA | The Moore Theatre | The Brain | 3:00pm |
| 11/11/2018 | Seattle, WA | The Moore Theatre | Deathstalker II | 7:00pm |
| 11/13/2018 | Boulder, CO | Macky Auditorium | The Brain | 7:30pm |
| 11/15/2018 | Milwaukee, WI | Riverside Theater | The Brain | 7:30pm |
| 11/16/2018 | Chicago, IL | Athenaeum | The Brain | 7:00pm |
| 11/16/2018 | Chicago, IL | Athenaeum | Deathstalker II | 10:00pm |
| 11/17/2018 | Minneapolis, MN | State Theatre | The Brain | 7:00pm |
| 11/17/2018 | Minneapolis, MN | State Theatre | Deathstalker II | 10:00pm |