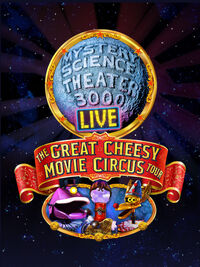 Mystery Science Theater 3000 Live - The Great Cheesy Movie Circus Tour was the third live touring show based on Mystery Science Theater 3000. It began on September 14, 2019 in York, Pennsylvania and ended on March 4th, 2020 in Reading, Pennsylvania.
As with the previous live tours, there were two films featured. At most stops, the film No Retreat, No Surrender was riffed, while Circus of Horrors was riffed at selected venues.
Joel Hodgson also announced that this would be the last tour for which he would host and appear in character as Joel Robinson.
Members of the touring cast appeared in The MST3K LIVE Social Distancing Riff-Along Special on May 3, 2020.
Cast
Joel Hodgson - Joel Robinson
MST3KLive.com
A website mst3klive.com was launched to support the tour. A complete list of tour dates can be found on the main page, as well as a section marked "News", where Joel posted behind-the-scenes videos of the work being done for the tour.
Notes
Tour Schedule
| Date | City | Theater | Film | Notes |
| --- | --- | --- | --- | --- |
| 9/19/2019 | Brooklyn, NY | United States Kings Theatre | No Retreat, No Surrender | 8:00pm |
| 9/20/2019 | Brooklyn, NY | United States Kings Theatre | Circus of Horrors | 8:00pm |
| 10/1/2019 | Kalamazoo, MI | United States Miller Auditorium | No Retreat, No Surrender | 7:30pm |
| 10/3/2019 | Indianapolis, IN | Clowes Memorial Hall | No Retreat, No Surrender | 7:30pm |
| 10/6/2019 | Columbus, OH | Speaker Jo Ann Davidson Theatre | No Retreat, No Surrender | 7:00pm |
| 10/11/2019 | Boston, MA | Emerson Colonial Theatre | No Retreat, No Surrender | 8:00pm |
| 10/12/2019 | Boston, MA | Emerson Colonial Theatre | Circus of Horrors | 8:00pm |
| 10/15/2019 | Richmond, VA | Carpenter Theatre | No Retreat, No Surrender | 7:30pm |
| 10/17/2019 | Charlotte, NC | Knight Theater | No Retreat, No Surrender | 7:30pm |
| 10/18/2019 | Washington, DC | National Theatre | No Retreat, No Surrender | 7:00pm |
| 10/19/2019 | Washington, DC | National Theatre | No Retreat, No Surrender | 3:00pm |
| 10/19/2019 | Washington, DC | National Theatre | Circus of Horrors | 8:00pm |
| 10/20/2019 | Wilmington, NC | The Wilson Center at Cape Fear Community College | No Retreat, No Surrender | 7:30pm |
| 10/25/2019 | Philadelphia, PA | Merriam Theater | No Retreat, No Surrender | 7:00pm |
| 10/26/2019 | New Brunswick, NJ | State Theatre New Jersey | No Retreat, No Surrender | 3:00pm |
| 10/26/2019 | New Brunswick, NJ | State Theatre New Jersey | Circus of Horrors | 7:00pm |
| 10/29/2019 | Fayetteville, AR | Walton Arts Center | No Retreat, No Surrender | 7:00pm |
| 11/2/2019 | Milwaukee, WI | Miller High Life Theatre | No Retreat, No Surrender | 8:00pm |
| 11/3/2019 | Davenport, IA | River Center Adler Theatre | No Retreat, No Surrender | 6:00pm |
| 11/5/2019 | Dubuque, IA | Five Flags Center | Circus of Horrors | 7:30pm |
| 11/9/2019 | Detroit, MI | The Fox Theatre | No Retreat, No Surrender | 7:00pm |
| 11/12/2019 | Toledo, OH | The Valentine Theater | Circus of Horrors | 7:30pm |
| 11/14/2019 | Springfield, OH | Clark State Performing Arts Center | Circus of Horrors | 7:00pm |
| 11/17/2019 | Dallas, TX | Winspear Opera House | No Retreat, No Surrender | 6:30pm |
| 11/18/2019 | North Little Rock, AR | CHARTS Theater at UA-Pulaski Tech | No Retreat, No Surrender | 7:30pm |
| 11/23/2019 | Memphis, TN | Orpheum Theatre | No Retreat, No Surrender | 7:30pm |
| 11/29/2019 | Fort Myers, FL | Barbara B. Mann Performing Arts Hall at FSW | No Retreat, No Surrender | 8:00pm |
| 12/1/2019 | Jacksonville, FL | Florida Theatre | No Retreat, No Surrender | 7:00pm |
| 12/2/2019 | Niceville, FL | Mattie Kelly Arts Center at Northwest Florida State College | No Retreat, No Surrender | 7:30pm |
| 12/4/2019 | Fort Lauderdale, FL | Parker Playhouse | No Retreat, No Surrender | 7:00pm |
| 12/7/2019 | New Orleans, LA | Mahalia Jackson Theater | No Retreat, No Surrender | 8:00pm |
| 1/15/2020 | Bremerton, WA | The Admiral Theatre | Circus of Horrors | 7:00pm |
| 1/16/2020 | Spokane, WA | INB Performing Arts Center | No Retreat, No Surrender | 7:30pm |
| 1/17/2020 | Portland, OR | Keller Auditorium | No Retreat, No Surrender | 7:00pm |
| 1/18/2020 | Seattle, WA | Moore Theatre | No Retreat, No Surrender | 8:30pm |
| 1/19/2020 | Eugene, OR | Hult Center for the Performing Arts | Circus of Horrors | 7:00pm |
| 1/20/2020 | Medford, OR | Craterian Theater | No Retreat, No Surrender | 7:30pm |
| 1/23/2020 | San Jose, CA | San Jose Center for the Performing Arts | Circus of Horrors | 7:30pm |
| 1/25/2020 | San Diego, CA | Balboa Theatre | No Retreat, No Surrender | 7:30pm |
| 1/28/2020 | El Paso, TX | Plaza Theatre | No Retreat, No Surrender | 7:30pm |
| 1/29/2020 | Mesa, AZ | Ikeda Theatre | No Retreat, No Surrender | 7:30pm |
| 2/12/2020 | Cheyenne, WY | Cheyenne Civic Center | No Retreat, No Surrender | 7:30pm |
| 2/13/2020 | Durango, CO | Community Concert Hall | No Retreat, No Surrender | 7:30pm |
| 2/14/2020 | Albuquerque, NM | Popejoy Hall | No Retreat, No Surrender | 7:00pm |
| 2/15/2020 | Denver, CO | Buell Theatre | No Retreat, No Surrender | 7:00pm |
| 2/16/2020 | Colorado Springs, CO | Pikes Peak Center | Circus of Horrors | 6:00pm |
| 2/18/2020 | Omaha, NE | Orpheum Theater | No Retreat, No Surrender | 7:30pm |
| 2/19/2020 | Columbia, MO | Jesse Auditorium | No Retreat, No Surrender | 7:00pm |
| 2/20/2020 | Oklahoma City, OK | Hudiburg Chevrolet Center | No Retreat, No Surrender | 7:30pm |
| 2/24/2020 | San Antonio, TX | Tobin Center for the Performing Arts | No Retreat, No Surrender | 7:30pm |
| 2/28/2020 | Minneapolis, MN | The Pantages Theatre | No Retreat, No Surrender | 7:00pm |
| 2/29/2020 | Minneapolis, MN | The Pantages Theatre | Circus of Horrors | 7:00pm |
| 3/1/2020 | Madison, WI | Capitol Theater | No Retreat, No Surrender | 7:00pm |
| 3/4/2020 | Reading, PA | Santander Performing Arts Center | Circus of Horrors | 7:30pm |