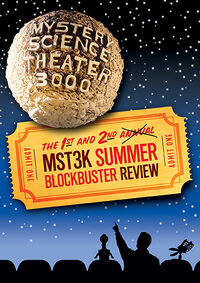 Mystery Science Theater 3000 Presents the 1st and 2nd Annual MST3K Summer Blockbuster Review is a DVD bonus disc made available to early purchasers of Mystery Science Theater 3000: Volume XXXVI directly from Shout! Factory. It was released alongside Volume XXXVI on September 13, 2011.
The disc features both the 1st and 2nd Blockbuster Review specials, where Mike and the Bots riff on clips from media kits for various summer "event" films.
Community content is available under
CC-BY-SA
unless otherwise noted.