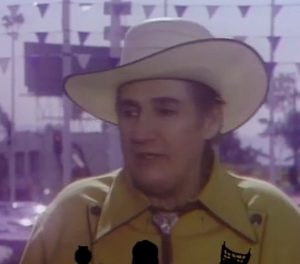 Maxwell Emmett "Pat" Buttram (June 19, 1915 – January 8, 1994) was an American actor whose name was mentioned in several episodes of the series - most notably in Soultaker where TV's Frank said one of the reasons he left Second Banana Heaven was because Buttram had it in for him.
Buttram was well known for his distinctive voice, which he himself said, "...never quite made it through puberty. It has been described as sounding like a handful of gravel thrown in a Mix-Master." [1]
Buttram was born in Addison in Winston County, Alabama. As a young man he intended to follow in his father's footsteps and began studies to become a Methodist minister. In 1933 after an encounter with a Chicago radio personality turned into a job on WLS Buttram became a radio broadcaster. In 1940 he went to Hollywood where he eventually became Gene Autry's sidekick, starring in number of Autry films and television shows.
In the 1960s Buttram became famous for playing the unscrupulous Mr. Haney in the television series Green Acres. When Green Acres was one of the victims of the notorious CBS "rural purge", Buttram famously said the network canceled everything with a tree in it. Buttram also provided character voices for several Disney animated films, including the Sheriff of Nottingham in Robin Hood, and Napoleon in The Aristocats.
Buttram retired from full-time acting in 1980. He returned home to Alabama but would later go back to California. One of his last roles was as one of the 1885 barflies on Back to the Future Part III and the voice of one of Eddie's Valiant's toon bullets in Who Framed Roger Rabbit.
He died of renal failure in early 1994, and is buried in Haleyville, Alabama.
Riffed Movies
See also
References
Community content is available under
CC-BY-SA
unless otherwise noted.