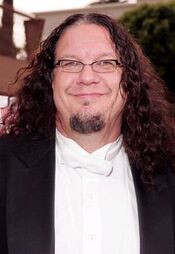 Born in Greenfield, MA, Penn Jillette is a comedian and magician who also served as a voice-over artist and spokesperson for Comedy Central in the 1990's. Among many other jobs he did for the network, Jillette served as host of the 1993 Mystery Science Theater 3000 making-of special, This Is MST3K.
He is also unfortunately remembered for the promos featuring his voice that Comedy Central chose to run over the end credits of many episodes of MST3K. When a number of these promos were run over episodes with credit gags, most famously during the extended broken button sequence of a rerun of Daddy-O, many MSTies sent in complaints about the lack of attention Comedy Central was giving the show. Comedy Central eventually decided to stop the voice-overs during MST3K's credits.
Penn is mentioned in the tribute to doughy guys during Experiment #522 Teen-Age Crime Wave. He is also referred to in Experiment #605 Colossus and the Headhunters, in which Dr. Forrester explains that NummyMuffinCoocolButter is so cute that it makes "Snuggles [sic] the fabric-softener bear look like Penn Jillette."
Penn appeared (with Teller) during the Final Countdown for the Bring Back MST3K Kickstarter, explaining one of the rewards that he and teller were offering.
Trivia
Penn plays bass with a jazz band (led by Mike Jones) before his stage show most nights
Penn has been quoted as saying that smoking monkeys are the funniest thing in human history
Penn is a big fan of raspberry Krispy Kreme donuts and Razzleberry pie.
Penn has two children. Zolten Jillette (his wife's maiden name) and Moxy Crimefighter Jillette.
Penn graduated from the Ringling Brothers Barnum and Bailey Greatest Show On Earth Clown College for Juggling
Penn hosted a radio show with fellow juggler, Michael Goudeau until early 2007.
Penn is a vocal Atheist and Skeptic.
External links
Penn Jillette at Wikipedia
Community content is available under
CC-BY-SA
unless otherwise noted.