Line 1:
Line 1:
 

[[File:PeterLawfordAngelsRevenge.png|thumb|right|250px|Peter Lawford in [[Angels Revenge]].]]

 

[[File:PeterLawfordAngelsRevenge.png|thumb|right|250px|Peter Lawford in [[Angels Revenge]].]]

 
 
−

'''Peter Sydney Ernest Lawford''' (September 7, 1923 – December 24, 1984) was an English actor and ex brother-in-law to the Kennedy family through his marriage to Patricia Kennedy. Lawford was a member of the ''Rat Pack'' along with Frank Sinatra, Sammy Davis Jr., and Dean Martin. To [[Mystery Science Theater 3000]] fans he is most well known for playing the role of the drug kingpin Burke in the [[Greydon Clark]] movie ''[[Angels Revenge]]''.

+

'''Peter Sydney Ernest Lawford''' (September 7, 1923 – December 24, 1984) was an English actor and ex brother-in-law to the Kennedy family through his marriage to Patricia Kennedy. Lawford was a member of the ''Rat Pack'' along with Frank Sinatra, Sammy Davis Jr., and Dean Martin.

 
 
 

Born in London, Lawford was the product of an affair between Sir Sydney Turing Barlow Lawford, KBE and May Sommerville Bunny - who were both married to others at the time. Both of their spouses divorced them and Lawford's parents soon married. The family moved to France and eventually to the United States. An accident at the age of 14 in which Lawford's right arm went through a glass plate caused irreparable damage to the arm, and made him ineligible for military service in World War II. Lawford decided instead to become an actor and in the late 1930s signed a contract with MGM. Lawford gained acclaim for several movies he performed in the 1940s and early 1950s.

 

Born in London, Lawford was the product of an affair between Sir Sydney Turing Barlow Lawford, KBE and May Sommerville Bunny - who were both married to others at the time. Both of their spouses divorced them and Lawford's parents soon married. The family moved to France and eventually to the United States. An accident at the age of 14 in which Lawford's right arm went through a glass plate caused irreparable damage to the arm, and made him ineligible for military service in World War II. Lawford decided instead to become an actor and in the late 1930s signed a contract with MGM. Lawford gained acclaim for several movies he performed in the 1940s and early 1950s.

 
 
−

Lawford was a friend of Frank Sinatra for a number of years, however Sinatra broke off the friendship after Kennedy chose to stay at Bing Crosby's home instead of Sinatra's place and refused to even speak to Lawford. Crosby's home and Sinatra's refusal to speak to Lawford were both referenced in ''Angels Revenge'' in the form of riffs by [[Mike Nelson]] and the bots.

+

Lawford was a friend of Frank Sinatra for a number of years Sinatra broke off the friendship after Kennedy chose to stay at Bing Crosby's home instead of Sinatra's place and refused to even speak to Lawford.

 
 
−

By the 1970s Lawford's career was in serious decline. Patricia Kennedy had long since divorced him and he had been through two more marriages in the meantime. Lawford had burned a number of bridges throughout Hollywood and as a result it became very difficult for him to find work. He was mainly confined to television and small movie roles. Alsot t he effects of substance abuse had caught up with Lawford, which was also commented on by Mike and the bots.

+

By the 1970s Lawford's career was in serious decline. Patricia Kennedy had long since divorced him and he had been through two more marriages in the meantime. Lawford had burned a number of bridges throughout Hollywood and as a result it became very difficult for him to find work. He was mainly confined to television and small movie roles. effects of substance abuse had caught up with Lawford.

 
 
 

Lawford died from cardiac arrest on Christmas Eve. By the time he died he was suffering from both kidney and liver failure due to his drug and alcohol abuse. Lawford was cremated the following day. His ashes were interred at Westwood Village Memorial Park Cemetery. After disputes over payment between the cemetery and his widow his ashes were removed and scattered off the coast of California.

 

Lawford died from cardiac arrest on Christmas Eve. By the time he died he was suffering from both kidney and liver failure due to his drug and alcohol abuse. Lawford was cremated the following day. His ashes were interred at Westwood Village Memorial Park Cemetery. After disputes over payment between the cemetery and his widow his ashes were removed and scattered off the coast of California.

 
+
 
+

==Riffed Movies==

 
+

* ''Angels Revenge'' ([[MST3K 622 - Angels Revenge|Experiment #622]]) - as Burke

 
 
 

==See Also==

 

==See Also==
---
Revision as of 17:23, 24 November 2018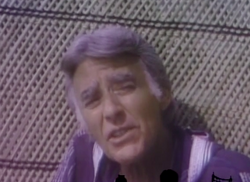 Peter Sydney Ernest Lawford (September 7, 1923 – December 24, 1984) was an English actor and ex brother-in-law to the Kennedy family through his marriage to Patricia Kennedy. Lawford was a member of the Rat Pack along with Frank Sinatra, Sammy Davis Jr., and Dean Martin.
Born in London, Lawford was the product of an affair between Sir Sydney Turing Barlow Lawford, KBE and May Sommerville Bunny - who were both married to others at the time. Both of their spouses divorced them and Lawford's parents soon married. The family moved to France and eventually to the United States. An accident at the age of 14 in which Lawford's right arm went through a glass plate caused irreparable damage to the arm, and made him ineligible for military service in World War II. Lawford decided instead to become an actor and in the late 1930s signed a contract with MGM. Lawford gained acclaim for several movies he performed in the 1940s and early 1950s.
Lawford was a friend of Frank Sinatra for a number of years. However Sinatra broke off the friendship after Kennedy chose to stay at Bing Crosby's home instead of Sinatra's place and refused to even speak to Lawford.
By the 1970s Lawford's career was in serious decline. Patricia Kennedy had long since divorced him and he had been through two more marriages in the meantime. Lawford had burned a number of bridges throughout Hollywood and as a result it became very difficult for him to find work. He was mainly confined to television and small movie roles. Also the effects of substance abuse had caught up with Lawford.
Lawford died from cardiac arrest on Christmas Eve. By the time he died he was suffering from both kidney and liver failure due to his drug and alcohol abuse. Lawford was cremated the following day. His ashes were interred at Westwood Village Memorial Park Cemetery. After disputes over payment between the cemetery and his widow his ashes were removed and scattered off the coast of California.
Riffed Movies
See Also
Community content is available under
CC-BY-SA
unless otherwise noted.