Ambassador Phantom of the Planet Krankor, frequently shortened in the movie to "Phantom of Krankor" or "Phantom", and by Best Brains as Krankor, is an evil dictator and the main villain from the Season 8 episode Prince of Space. While proclaiming to be ruler of his planet due to his scientistic achievements, Krankor is frequently outwitted and suffers endless defeats at the hand of the hero Prince of Space. As befitting his supervillain status, Krankor has a trademark laugh after making grandiose claims of conquest. Mike and the Bots frequently compare Krankor to a chicken, an image which is evoked by his bird-like laugh, costume and beak-like nose.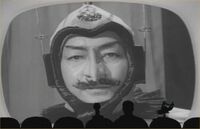 Krankor (played by Bill Corbett) also appeared in the final host segment for the episode apparently at the request of Mike who wanted to mess with the Bots. Krankor quickly turned towards grandiose claims of conquest of the Satellite of Love, only to be defeated when Mike shouted at him to leave. Krankor returned a final time in the fourth host segment for another similar Japanese tokusatsu film Invasion of the Neptune Men on much more friendly terms to rescue Mike & the Bots from the depths of despair by reminding them of the good times they had.
External links
Community content is available under
CC-BY-SA
unless otherwise noted.