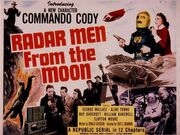 Radar Men from the Moon
is a 12-part serial produced by Republic Pictures in 1952. It was directed by
Fred C. Brannon
and featured
George Wallace
as the hero
Commando Cody
.
The first eight installments of the serial were featured during Season One of Mystery Science Theater 3000, with an incomplete portion of the ninth installment being used as well (it was apparently cut for time).
Notes
The serial is notable for featuring actor Clayton Moore, who is famous for playing the Lone Ranger throughout the 1950s.
A juggernaut vehicle from the Undersea Kingdom serial was re-used in Radar Men from the Moon as Retik's Lunar Tank.
The serial entered the public domain in 1979.
In 1966, the serial was re-edited by Republic and shown on television as 100-minute film entitled Retik the Moon Menace.
Episode appearances