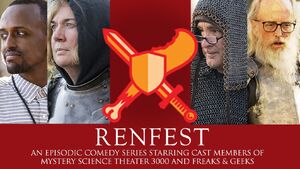 Renfest is a proposed comedy series created by and starring Mary Jo Pehl and Trace Beaulieu. The premise follows Elisabeth Crönk, a historian, who is hired as the Second Assistant General Manager of a Renaissance Festival.
Cast and crew
Joe Schaak - director
Shawn Otto - writer
Jeff Stonehouse - cinematographer
Kickstarter campaign
In April, 2016, a web site, renfest.tv, was launched with teaser information about the show. The Kickstarter was officially launched on May 10, 2016 with an initial goal of $350,000.[1] The campaign offered t-shirts, books (including Trace's Silly Rhymes for Belligerent Children) and other incentives. The initial goal was for funding of one full, pilot episode. Any additional funds would go towards more episodes.
On June 9, 2016, the project was cancelled, having raised only $73,966 of its goal (about 20%). The official announcement stated that "a pre-emptive opportunity has come up with a television production entity to potentially finance the show".
Updates throughout the campaign
During the campaign's 31 day duration, several updates were made. On May 19th, Frank Conniff was added to the cast in an undisclosed role. On May 24th, Michael J. Nelson, Kevin Murphy and Bill Corbett of RiffTrax were announced as making cameos. Josh Weinstein was also announced as making a cameo, on May 27th.
Legacy
Following the end of the campaign, there were few updates on the fate of Renfest until August 8th, 2019, when the RenFest facebook page announced that they had been accepted into the Catalyst Content Festival, a networking opportunity that may revive the show's chances.
External links
References
Community content is available under
CC-BY-SA
unless otherwise noted.