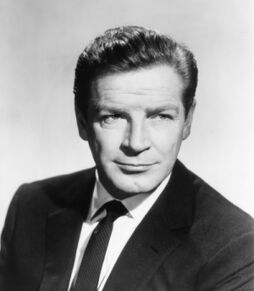 Richard Basehart (1914-1984) was an American actor. He starred in the 1960s television science fiction drama Voyage to the Bottom of the Sea as the character of Admiral Harriman Nelson.
Basehart had a notable fan in the character of Gypsy from the cult cable television program Mystery Science Theater 3000. She frequently referred to him in an affectionate, even reverential, context. Despite being often mentioned, there is yet to be any of his movies riffed on the TV show or its affiliates.
One of Basehart's most notable film roles was the acrobat known as "the Fool" in the acclaimed Italian film La Strada directed by Federico Fellini. He also appeared as the killer in the 1948 film noir classic He Walked by Night and as Ishmael in Moby Dick. He was once married to Italian Academy Award-nominated actress Valentina Cortese with whom he had one son before divorcing in 1960.
Richard Basehart also appeared as Hanibal Applewood, an abusive school teacher in Little House on the Prairie in 1976.
In 1980, Basehart narrated the mini-series written by Peter Arnett called Vietnam: The Ten Thousand Day War that covered Vietnam and its battles from the Japanese surrender on September 2, 1945 to the final American embassy evacuation on April 30, 1975.
He later appeared in the pilot episode of the television series Knight Rider as millionaire Wilton Knight. His narration can be heard in the beginning of the show's credits. 
Basehart died at age 70 following a series of strokes. One month before his death, Basehart was an announcer for the closing ceremonies of the 1984 Summer Olympics in Los Angeles.