For the MST3K episode, see MST3K 614 - San Francisco International.
San Francisco International is a 1970 made-for-TV movie that was the pilot episode for an ongoing series. The series was produced, but did not include all of the same cast.
Plot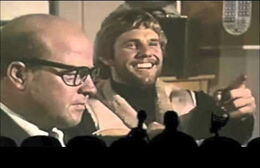 In this TV-movie, the people who run a large metropolitan airport handle several crises. Jim Conrad is the general security manager of the airport and he doesn't play by anyone's rules. He stages a phony crisis aboard an airplane full of congressmen in order to demonstrate the need for a new runway. Conrad's colleague Bob Hatten is the head of security for San Mateo County.
The two men face several challenges during the course of a day. They must stop the theft of a shipment of newly-printed currency from an airplane, and secure the safety of the pilot's wife, who has been abducted to ensure his cooperation in delaying the plane's take-off.
Subplots include a teenage boy with no flight experience who takes to the air in a stolen Ercoupe because his parents are getting a divorce, and a case of mistaken identity between an uptight bookkeeper and a hippie.
Cast
Pernell Roberts as Jim Conrad
Clu Gulager as Bob Hatten
Beth Brickell as Katie Barrett
Van Johnson as Lester Scott
David Hartman as Ross Edwards
Tab Hunter as Stayczek
Frank Gerstle as Congressman
Notes
The movie was developed as a pilot for the TV series San Francisco International Airport and aired as a TV-movie on September 29, 1970 before the TV series made its debut as part of NBC's wheel series Four in One around a month later.

The TV-movie and show's ratings are unknown, but the series was cancelled after six episodes.
When the show went to series, Pernell Roberts was replaced by Lloyd Bridges, who later played a similar (though comedic) role in the movie Airplane!. [1]

Actor

Russ Conway

, who played Reverend Snow in The Screaming Skull, briefly appears as the airline mechanic who looks at the "mushy nose wheel". He would also appear in two episodes of the TV series.
Both Van Johnson and Tab Hunter had been known as heartthrobs in their younger days, Johnson during the 1940s and Hunter during the 1950s.
As noted above, Pernell Roberts was replaced for the short-lived TV series based on this movie by Lloyd Bridges. Roberts would later replace Wayne Rogers in the role of Trapper John McIntyre from M*A*S*H in the TV series Trapper John MD. Rogers was cited in Experiment #410 as being the actor who often replaced other actors in their former roles. This would seem to place Lloyd Bridges at the top of a very specific food chain.