For the MST3K episode, see MST3K 521 - Santa Claus.
For the MADS presentation, see MADS - Santa Claus vs. the Devil.
Synopsis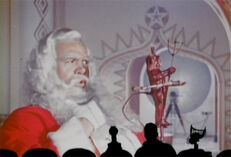 Santa Claus, high above the North Pole in his cloud-borne castle equipped with surveillance devices, has a legion of child helpers prepare presents to deliver on Christmas Eve.
Santa is especially interested in helping Lupita, the daughter of a poor family who wants nothing more than a doll, and a young boy whose parents are so wealthy they never spend any time with him. The Devil sends his minion Pitch to foil Santa's plans to help these children. Pitch recruits three naughty boys to help him set traps for Santa.[1] Merlin the magician provides Santa Claus with supernatural assistance, including powders to keep children asleep, a golden key that opens everything, and a flower that makes him invisible.
Hi-jinks ensue. Pitch is defeated and the children's lives are improved.
Cast
José Elías Moreno

as Santa Claus

Cesáreo Quezadas 'Pulgarcito'

as Pedro

José Luis Aguirre 'Trotsky'

as El Diablo

Lupita Quezadas

as Lupita
Information
This movie is public domain, and is played frequently in the original Spanish during the holiday season. As a result, it has become a cherished holiday tradition for many Spanish-speaking TV viewers worldwide.
The movie is closely examined in an extra track on the Shout! Factory release by Kevin Murphy, cult film archivist Charles Kilgore, and Mexican film historian David Wilt. Some of the more salient points made are that:

In the late 1950s in Mexico, 'Santa Claus' was a (literally) foreign concept. While not unknown, Santa was very much a gringo construct: children didn't get their presents at Christmas from Santa, but from the three magi of the New Testament.
The movie was a very ambitious project for the time and place. Filming in color was an extravagance. The large, complex sets also added to the cost. The Mexican film industry had never done elaborate fantasy or sci-fi until this project, so the set designers seem to have been given free rein.

This film did not receive a general release in the United States. The U.S. distributor, K. Gordon Murray, booked the film as a special children's matinée attraction in which the film would only be shown once or twice.
While billed simply as "El Diablo" ("The Devil") in the credits, Pitch's character name in the original version is "Precio" ("Price").
Santa Claus became a RiffTrax Live presentation in 2014.
On December 15 of 2020, Santa Claus was riffed in a livestream presentation by The Mads.