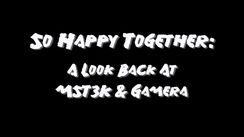 So Happy Together: A Look Back at MST3K and Gamera is a documentary featured in the special features of the Gamera DVD Box Set released by Shout! Factory in 2011.
Content
Features interviews with Joel Hodgson, Trace Beaulieu, Josh Weinstein, Frank Conniff, and producer Jim Mallon on the details of the early days of the show and the series' relationship with the Gamera films. At one point the interviewees are asked who they think won in the battle between MST3K and Gamera.
Notably absent are interviews with Michael J. Nelson and Kevin Murphy, who were who were involved in the production of these episodes.