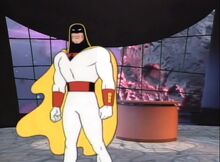 Space Ghost Coast to Coast (also known as SGC2C) is a late-night comedy talk show on the Cartoon Network. It combined archival animation, new animation, and live action elements.
The premise of the show was that the super hero Space Ghost was now the host of a talk show. His bandleader Zorak (a humanoid mantis) and producer/director Moltar (a lava man) were former enemies that had been pressed into his service. Other villains would appear in recurring roles.
MST3K Connections
MST3K creator Joel Hodgson appeared as a guest in the 1996 episode $20.01, which parodied the film 2001: A Space Odyssey. Space Ghost insisted on addressing Joel by his character name Joel Robinson. He also tried, without success, to get Joel to riff along with him on clips of the tokusatsu show Ultraseven.
Joel is also credited as a writer on the 1995 episode "Urges".
The band Man or Astro-man? recorded one of the closing themes to Space Ghost Coast to Coast. The band has a long association with MST3K, and often uses samples from the show in their music. Joel referred to them during his appearance in Experiment #1001 Soultaker.
Some actors loosely affiliated with or who were from films used on MST3K, Cinematic Titanic and RiffTrax appeared as guests on Space Ghost Coast to Coast, including Adam West, Russell Johnson, Penn Jillette, Mark Hamill, and William Shatner. Future RiffTrax guest riffers Fred Willard and "Weird Al" Yankovic also appeared in one episode, as did Elvira.
Mike Nelson and Kevin Murphy (in character as Tom Servo) shot interviews for the show which went unused. Dana Gould also recorded an interview that was not used.