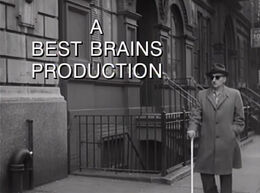 A stinger is a very short (generally, three to five seconds) clip from that episode's movie (or occasionally the accompanying short) shown after the closing credits of an MST3K experiment. The practice began with episode 205, Rocket Attack U.S.A., and continued for the remainder of the series' run. [1]
The stingers, with a few exceptions, highlighted moments from the films and shorts that were either particularly nonsensical or had simply caught the MST3K writer's attention. Such exceptions include episode 207, Wild Rebels, which featured the words "A Best Brains Production" on a black background, episode 523, Village of the Giants, which featured a dedication to the recently deceased Frank Zappa in place of a stinger, and the use of stingers was temporarily abandoned for episodes 805 through 808, which instead ended with the words "A Best Brains Production" over a shot of three Observers [2] as well as Prof. Bobo having crashed on the new Camping Planet.
Community content is available under
CC-BY-SA
unless otherwise noted.