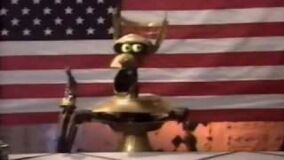 Supercalafragalisticexpiala-wacky!!! is a "topical, satirical revue" of the American Government written by Crow T. Robot and presented by Mike and the Bots before Experiment #617. It is performed on Dr. Clayton Forrester's request to entertain a pair of female visitors to Deep 13.
Lyrics
"I'm the Government"
MIKE (dressed as Uncle Sam)
I'm the government
I'm the government
I'm filled with bloats and perks
I'm the government
I'm the government
I'm the reason nothing works

TOM: (holding several dollars) Boy, I tell you, it's not easy bein' the working man, but at least I've earned an honest day's wage and I can-
MIKE: (taking Servo's money) Thank you!
TOM: Heeyyy!
"I'm the Crime Bill"
CROW (holding a gun)
I'm the crime bill
Bang, Bang!
I'm the crime bill
Bang, Bang!
I get shot at every day

I'm the crime bill
Bang, Bang!
I'm the crime bill
Bang, Bang!
I'm opposed by the NRA
Bang, Bang!
(makes dying noises)
Ack, Ahh!
The Deficit Sketch
MIKE: (dressed as a little kid and speaking adorably) Hello Mr. Senator. My daddy's out of work, and he says it's because of the deficit. So I saved some money in my piggy bank, and I'm going to give it to you to lower the deficit. If an 8-year-old kid can save money, how come the government can't?
"Government Gridlock"
TOM
Honk honk!

CROWN
Beep beep!

TOM and CROW
Government gridlock!

ALL
Honk honk!

CROW
Beep beep!

ALL
Government gridlock!

TOM
There's a traffic jam at the Congress intersection

CROW
But the light is red unless there's an election!

MIKE
Government sure can get tacky

ALL
It's Supercalafragalisticexpiala-wacky!!!

(scene cuts back to Deep 13 where the ladies have bolted and Dr. Forrester announces the movie before cutting back again to the SOL)


"The Foreign Policy Blues"
ALL
That's the Foreign Policy Blues! Ha Ha!

(Movie sign is sounded, ending the revue)
Behind-the-scenes
The revue is parody of topical-but-ultimately-toothless political satire, such as the works of Mark Russell or Capitol Steps.
The title of the revue is a take-off on the Sherman Brothers song "Supercalifragilisticexpialidocious" from the film Mary Poppins.
Community content is available under
CC-BY-SA
unless otherwise noted.