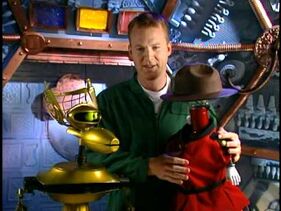 "The Canada Song" (sometimes called "I Wish I Was Back in Old Canada") is a song from Mystery Science Theater 3000 performed during the first host segment of episode 910 The Final Sacrifice. Mike and Crow are poking fun at Canadians based on the ones they had just seen in the movie, when Tom Servo rolls up, dressed as a Mountie and admonishes them. He then offers "this song of tribute!"
After Mike and Crow point out, per their verses, everyone else makes fun of Canadians, they urge Servo to give it a try. In typical Tom-fashion, he goes completely overboard, singing about threats of death and violence against Canada instead of light-hearted joshing. After cutting him off mid-verse, Mike and Crow end the sketch trying to console Tom, sobbing over his gross faux pas.
Lyrics
Servo:
Oh, I wish I was back in old Canada,
A land which I never shall lampoon!
How I pine for the ice covering Lake Manitoba,
And the beauty that is Saskatoon!
Mike:
Oh, I wish I was stuck in the hills of Alberta,
Drinking beer with some big dumb guy trapping fur!
As he scraped and chiseled all the moose dung off his boots,
I would learn that he's the Prime Minister!
Spoken:
Tom: Oh, stop that!
Crow:
Oh, I wish I was in the land that gave us Peter Jennings,
Alanis Morissette, Mike Myers, too!
Spoken
Tom: Yeah!
Crow, continuing
No, I take that back, I wouldn't go there even if you paid me,
Oh, Canada, you are a place I must eschew!
Spoken:
Tom: Now, this is NOT in the spirit I intended!
Mike: Oh, come on, give in! I mean, after all, they gave us Ed the Sock, and Rush!
Crow: Yeah, what are you defending? They're such feebs!'
Tom: Okay, I'll try!'
Mike: All right! Good man!
Servo:
(sadly) Oh, I wish I was blowing up Prince Edward Island,
And going on to bomb Ontario, heh heh!
(harshly)The destruction of Canada and all of its culture,
Is by far my fav-o-rite scenario!
Spoken:
Mike: Okay, well that's a little strong....
Tom: No, no, you were right Mike, this is much more fun!
Servo (maniacally):
Just where the hell does Canada get off sharing a border
With countries far superior to it?
Spoken: Crow: Yikes!
Servo (continuing)
Why, you lousy, stinking, francophonic, bacon-loving bastards,
Your country's just a giant piece of sh- (Mike and Crow cut Servo off in mid-sentence, and Servo breaks down.)
Spoken:
Mike, Crow (ab-lib): Whoa! Okay! Whoa!
Tom (sobbing): Sorry! I have no sense of proportion! I'm a disgrace to my uniform!
Mike: That's ok. Calm down. Mustn't hate, mustn't hate...
Crow: At least so overtly.
Mike: Exactly. Must disguise our hate. We'll be right back. Shhhh, it's ok now, Dudley. Calm down...
Tom (sobbing): Pardonnez-moi...
Mike: ...calm down...
Tom: ...pardonnez-moi.
External Links
The Canada Song on YouTube.com