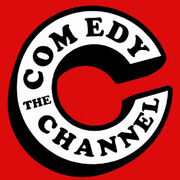 The Comedy Channel was a cable television and satellite television channel in the United States and served as the network that aired Mystery Science Theater 3000 nationally for its first two seasons. Shortly after the run of Season 2, the channel merged with Ha!, a competing channel, to form Comedy Central, where MST3K would run for the next five seasons.
MST3K on The Comedy Channel
In spring 1989, Joel Hodgson and Jim Mallon had seen some moderate success with MST3K, at the time airing on local Minneapolis TV station KTMA. Convinced they had the makings of a hit on their hands, they cut a nine-minute tape of MST3K 's best moments and shopped around to cable networks. HA!, a comedy channel owned by Viacom, passed, but executives at The Comedy Channel, which was owned by HBO and had worked with Joel before, took note. They ended up signing a contract for MST3K 's first season, resulting in the founding of Best Brains, Inc.[1]
MST3K was a moderate hit, attracting as much of a cult following on The Comedy Channel as it had on KTMA. While not an overwhelming success, the positive reviews and press it generated were enough to convince the Comedy Channel executives to grant the show a second season.[2]
In mid-1991, HA! and the Comedy Channel merged and relaunched on April 1, 1991 as CTV: The Comedy Network before rebranding a short time later as Comedy Central. MST3K was one of the few shows on either network to survive the transition, with Season 3 debuting on Comedy Central's first day, June 1, 1991.
References