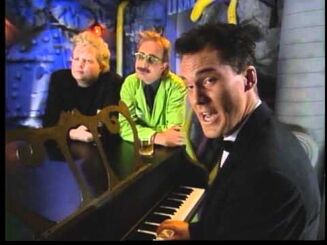 "The Gamera Song", sometimes referred to as "The Turtle Meat Song", was seen in the episode Gamera vs Guiron. It was sung by Joel Robinson and the Bots as their own version of the Japanese theme song.
Lyrics
Joel: (spoken) Let's go, Gamera!
(music starts)
All: Gamera! Gamera!
Gamera is really neat!
Gamera is filled with meat!
We've been eating Gamera!
Shell!
Teeth!
Eyes!
Flames!
Claws!
Breath!
Scales!
Fun!!
Tom Servo: Dr. Forrester is kind of a jerk,
And Frank is really dumb, too.
Crow T. Robot: We have to take part in these lame experiments.
Joel: But do we complain?
Servo: No!
Joel: No!
Crow: Yes!
Servo: Huh? So we hi-keeba all over the place-
Joel: -And talk of a thousand wonderful days.
Servo: (spoken) Everybody now!
All: Gamera is really sweet!
He is filled with turtle meat!
Now we have Commercial Sign!
Community content is available under
CC-BY-SA
unless otherwise noted.