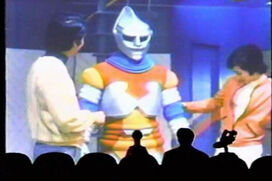 The Jet Jaguar Song is a song from the episode Godzilla vs. Megalon. The song was redone as a clip from the movie. Though the lyrics were Japanese, the Brains translate it in their own way.
Brains Translation
HE JOCK IT MADE OF STEEL
EATS SUSHI FROM A PAIL
JET JAGUAR? JET JAGUAR!
HE MOTHER NEVER REALLY LOVE HIM
HE CRIMEFIGHTING COVERS UP A BASIC INSECURITY
HE DICKEY COVERS UP AN ADAMS APPLE THE SIZE OF A TOYOTA
HE BASICALLY GOOD-HEARTED BUT HE'D LIKE TO SMASH THAT KID AGAINST A ROCK
KNOCK! KNOCK! KNOCK!
WHO'S THERE ?
HIS HEAD LOOKS LIKE JACK NICHOLSON
DON'T SMILE LIKE THAT, IT WILL STAY THAT WAY
YAHMMMAAHOAAHOAAAUGH!
DON'T TOUCH MY BAGS IF YOU PLEASE. MR. CUSTOMS MAN
Real Lyrics
Japanese Version
Hito ga tsukutta robotto da kedo,
Jetto Jagaa, Jetto Jagaa,
Yatta, Jetto Jagaa
Yuke, yuke, heiwa o mamoru tame,
Minna mo odoroku yuuki wo miseru
Gojira to Jagaa de panchi, panchi, panchi
Nakuna, bokura mo ganbarou
English Translation
taken from the Subtitles of the 2012 Toho Godzilla Vs. Megalon DVD
A man-made Guardian of Earth,
Jet Jaguar, Jet Jaguar
Well done, Jaguar
Go! Go! Defend our Peace,
Display the courage that amazes us all.
Godzilla and Jaguar, punch, punch, punch!
Punch! Punch! Punch!
Let's all fight bravely as a team!
Community content is available under
CC-BY-SA
unless otherwise noted.