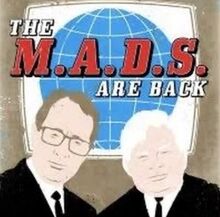 The Mads Are Back (or simply "The Mads") is a live riffing project featuring former Best Brains members Trace Beaulieu and Frank Conniff.[1] Though they are billed as "The Mads", they do not appear in character as Dr. Clayton Forrester and TV's Frank.
Trace and Frank began riffing together in early 2015, formalizing the partnership in October, 2015 with a tumblr account, Facebook page, and a web site (eventually). They have performed in live venues across the country, riffing old movies in the traditional MST3K style. The films being riffed are not typically announced to attendees ahead of time.
Beaulieu and Conniff have discussed the pleasant time they've had on tour on their movie podcast Movie Sign with the Mads.
On January 25th 2018, The Mads Are Back show at the Alamo Draft House in New York City featured an in-person appearance by Kim Cattrall, who introduced a riffing of The Tingler.
The show experienced a hiatus during 2019 when Frank Conniff had some health concerns. New dates were eventually announced.
In 2020, live performances were suspended due to the outbreak of the COVID-19 virus. A paid live-streaming event took place on Tuesday, July 21st in which the film Glen or Glenda was riffed.[2] At the conclusion of the livestream, the Mads announced that their next streaming show, featuring The Tingler, is scheduled to take place on August 18th, 2020.
Broadcast Shows
Other Known Riffed Movies
The Monolith Monsters
The Choppers
The Neanderthal Man
La La Land
Known Riffed Shorts
See Also
External Links
References
Community content is available under
CC-BY-SA
unless otherwise noted.