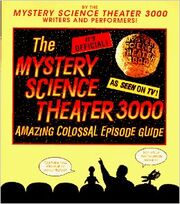 The Mystery Science Theater 3000 Amazing Colossal Episode Guide is a book written by Trace Beaulieu, Paul Chaplin, Jim Mallon, Kevin Murphy, Michael J. Nelson, and Mary Jo Pehl, with contributions by Frank Conniff.
Format
As the title suggests, the Guide consists mainly of summaries of each episode of MST3K from Season 1 through 6. Season 7 was represented by very truncated summaries. Additional chapters contain information on the show's beginnings at KTMA, the first ConventioCon, and the making of Mystery Science Theater 3000: The Movie, as well as explanations of "The 50 Most Obscure References on Mystery Science Theater 3000".
Some Guide entries contain a "TV's Frank's Pix" sidebar in which Frank Conniff wrote his own thoughts on the movie in question. As Conniff left the company during Season 6, his content in the book represents his final contribution to Best-Brains-produced MST3K until his 1999 cameo in MST3K 1001 - Soultaker.
The book was also notable for its wealth of large and rare photographs from the show, in front of and behind the scenes, most of which had never been published elsewhere.
Release
The book was published by Bantam Books on May 1, 1996.
Best Brains, Inc. offered copies directly for sale to the Mystery Science Theater 3000 Information Club in the merchandise catalog included with the March 1996 issue of the Satellite News newsletter. Info Club orders for the book postmarked by June 1 of that year received copies autographed by all the authors apart from Conniff.
The book ran for at least five printings, with about 51,000 copies of the book shipping to bookstores by mid-1996. The book sold briskly for the first few weeks, with sales apparently trailing off after the hardcore MSTies had bought their copies.[1]
Further episode guides
In the years after the book's publication, episode-guide entries similar to those in this book for the Sci-Fi Channel seasons were published on the Sci-Fi Channel's MST3K website as each episode aired.
Fully-detailed entries for Season 7 were later financed and published by the Satellite News web site, which also rehosted the Sci-Fi-Channel's entries (along with the rest of the Sci-Fi site's MST3K material) after that channel cancelled the series and took down their version of MST3K.com.
External links
References
Community content is available under
CC-BY-SA
unless otherwise noted.