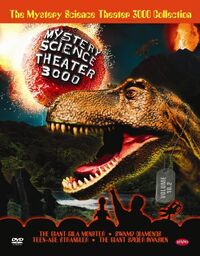 The Mystery Science Theater 3000 Collection, Volume 10.2 is a DVD box set released by Rhino Entertainment. It was released in February 2008.
This set features two episodes hosted by Joel and two hosted by Mike.
Inside the basic cardboard outside box is a fold-out insert for the four discs with an episode description and chapter index printed on it. There was no paper insert.
Shortly after the release of Volume 10, Rhino was forced to remove it from distribution due to a rights issue concerning Godzilla vs. Megalon. Volume 10.2 is a re-issue which replaces Godzilla with The Giant Gila Monster. The other three discs were unchanged.
One significant highlight of the re-issue is a special "10.2 Upgrade" feature which saw the return of Joel Robinson (Joel Hodgson), Dr. Clayton Forrester (Trace Beaulieu) and TV's Frank (Frank Conniff), none of whom had been seen since their respective final appearances on the original show.
Dr. Forrester hosts a seminar on "MST3K Volume 10 Upgrade to 10.2". He is upset at Frank for failing to clear the rights to the "Japanese Giant Lizard Monster Movie". Frank, however, has got things covered, as he has a great replacement in mind; something he can't see causing any legal hassle: Star Wars. Dr. F throws it to Joel who, along with Crow T. Robot (Beaulieu, returning to the role for the first time since Season 7) and Tom Servo (voiced by Coniff for the only time), shows the viewer how to remove the offending disc and replace it with the new one.
The photo gallery on the Gila Monster disc is the same as the one included with Godzilla vs. Megalon in Volume 10.
After twelve years, Volume 10.2 (and the concurrent release of Gila Monster on its own) marked the end of MST3K releases from Rhino. All subsequent releases would be from Shout! Factory.
Disc 1
Disc 2
Disc 3
Disc 4