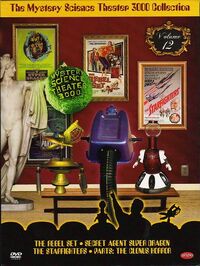 The Mystery Science Theater 3000 Collection, Volume 12 is a DVD box set released by Rhino Entertainment. It was released in October of 2007.
This set features two episodes hosted by Joel and two hosted by Mike.
Inside the basic cardboard outside box is a fold-out insert for the four discs with an episode description and chapter index printed on it. There was no paper insert.
This is the final entirely new box set from Rhino. The next completely new set, Mystery Science Theater 3000: The 20th Anniversary Edition, would be released by Shout! Factory, as would all subsequent releases.
One additional set would see release before the rights shifted. Following the pulling of Volume 10, Rhino would release The Mystery Science Theater 3000 Collection, Volume 10.2, with the offending episode replaced, but the other three unchanged.
Disc 1
Disc 2
Disc 3
Disc 4
Community content is available under
CC-BY-SA
unless otherwise noted.