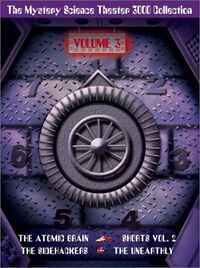 The Mystery Science Theater 3000 Collection, Volume 3 is a DVD box set released by Rhino Entertainment. It was released in April 2003.
The set includes three episodes (two with Joel, one with Mike) and the second "Shorts" collection.
The outer box features a fold-out recreation of the door sequence. Inside is a fold-out insert for the four discs and a booklet with additional information.
All three episodes feature "Extra Footage"; outtakes from the taping of the host segments for that particular episode.
This is the last set to feature episodes previously released on VHS. Only The Amazing Colossal Man remains unreleased on DVD.
This set was re-released in 2016 by Shout! Factory as Mystery Science Theater 3000 – Volume III with additional extras.
Contents
Disc 1
Disc 2
Disc 3
Disc 4
Community content is available under
CC-BY-SA
unless otherwise noted.