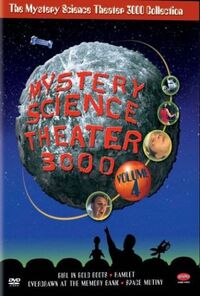 The Mystery Science Theater 3000 Collection, Volume 4 is a DVD box set released by Rhino Entertainment. It was released in November 2003.
This set is notable for three reasons:
It is the first set to feature episodes not previously available on VHS.
It is the first set to feature one host exclusively (in this case, Mike Nelson).
It marks the first release on home video of episodes from the Sci-Fi Channel.
The outer box features a die-cut opening through which the moon emblazoned with the show's title can be seen. There is a raised "button" attached that reads 'Volume 4'. Inside is a fold-out insert for the four discs and a booklet with a chapter index.
All four episodes feature new intros by Michael J. Nelson that automatically play at the beginning of each episode.
This set was re-released in 2017 by Shout! Factory as Mystery Science Theater 3000 – Volume IV with additional extras.
Contents
Disc 1
Disc 2
Episode: Hamlet
Extras: New intro
Disc 3
Disc 4
Community content is available under
CC-BY-SA
unless otherwise noted.