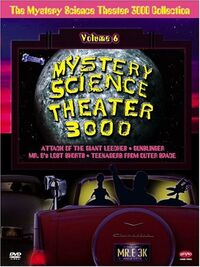 The Mystery Science Theater 3000 Collection, Volume 6 is a DVD box set released by Rhino Entertainment. It was released in October of 2004.
Following two box sets of exclusively "Mike" episodes, this is the first to feature only episodes with Joel Robinson as host. (Although Mike can still be seen in some of the shorts on disc 3.)
Inside the basic cardboard outside box is a fold-out insert for the four discs and a booklet with a chapter index.
This is the last time one of the discs in a particular volume was devoted to something other than an actual episode. All future shorts collections or other specials would be extras.
This set was re-released in 2017 by Shout! Factory as Mystery Science Theater 3000 – Volume VI with additional extras.
Contents
Disc 1
Disc 2
Disc 3
Disc 4
Community content is available under
CC-BY-SA
unless otherwise noted.