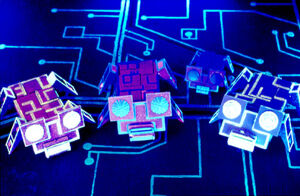 The Nanites are self-replicating, bio-engineered organisms that work on the ship. They are microscopic creatures that reside in the SOL's computer systems and made their first appearance in season 8. Based on the concept of nanotechnology, their comical deus ex machina activities included such diverse tasks as instant repair and construction, hairstyling, performing a Nanite variation of a flea circus, conducting a microscopic war, and even destroying the Observers' planet after a dangerously vague request from Mike to "take care of [a] little problem". The Nanites were largely forgotten about during the show's last season, and we are not given an explanation of their fate following the series finale.
They were voiced variously by Kevin Murphy, Paul Chaplin, Mary Jo Pehl, Patrick Brantseg, and Bridget Jones throughout their time in the series.
List of Nanites
Community content is available under
CC-BY-SA
unless otherwise noted.