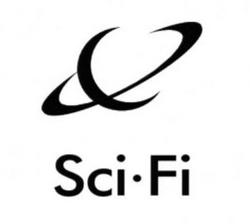 The Sci-Fi Channel (now known as SyFy) is an American cable television channel launched on September 24, 1992, specializing in science fiction, fantasy, horror, and paranormal programming. It is part of the entertainment conglomerate NBC Universal.
The channel was launched on September 24, 1992, as a sister cable channel to USA Network by then-owners Paramount Pictures (which was later acquired by Viacom in 1994) and MCA (then part of Japanese electronic giant Matsushita), the owner of Universal Studios, each with a 50% stake in the venture.
The channel was seen as a natural fit with classic film and television series that both studios had in their vaults, including Rod Serling's Night Gallery, Paramount's Star Trek, and classic Universal horror films such as Dracula and Frankenstein. Star Trek creator Gene Roddenberry and author Isaac Asimov were among those on the advisory board. In 1997, Seagram, which bought MCA in 1995, purchased Viacom's interest in USA and Sci-Fi and sold the networks to Barry Diller in 1998 to form USA Networks, Inc. Diller later sold USA's non-shopping (film and TV) assets, including Sci-Fi, to Universal's then-parent Vivendi Universal in 2002. Vivendi's film, television, and cable TV assets were then merged with General Electric's NBC to form NBC Universal in 2004.
Series
The channel's most prominent series include Battlestar Galactica, Stargate SG-1 (picked up from the cable network Showtime after five seasons, and eventually becoming American television's longest-running science-fiction series), and its spin-off, Stargate Atlantis. Its 2006 series Eureka was the channel's highest-rated series premiere. In addition to Stargate SG-1, Sci-Fi also picked up the canceled Comedy Central series Mystery Science Theater 3000, running three additional seasons of that show. There has been recent disapproval from Sci-Fi viewers, however, due to the decision to cancel Stargate SG-1, considered by many to be one of the shows that put The Sci-Fi Channel on the map. In January 2007, it introduced The Dresden Files alongside Battlestar Galactica on Sunday evenings.
Gallery
References