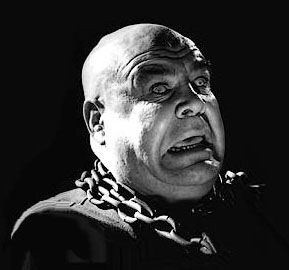 Tor Johnson (1903-1971) was a Swedish wrestler who barnstormed through the United States during the 1930s, usually under the name of the "Super Swedish Angel." In 1935 he appeared as a wrestler in the W.C. Fields' comedy The Man on the Flying Trapeze. In 1944 he had his first brush with fantasy films with a bit part in the Universal comedy The Ghost Catchers, starring the comedy team of Olsen and Johnson. Over the next two decades, he would continue to make fleeting film appearances (many of them uncredited) while remaining one of the most popular attractions in the wrestling world before retiring from it in the mid 1950s.
Starting in the early 1980s Johnson was a frequent subject of cartoons by Drew Friedman (cartoonist). In all of the cartoons Johnson bears the blank expression he had in Plan Nine.
Riffed Movies
Filmography
The Man on the Flying Trapeze (1935)
Under Two Flags (1936)
The Meanest Man in the World (1943)
Ghost Catchers (1944)
Road to Rio (1947)
Behind Locked Doors (1948)
State of the Union (1948)
Abbott and Costello in the Foreign Legion (1950)
The Lemon Drop Kid (1951)
The San Francisco Story (1952)
The Lady in the Iron Mask (1952)
Bride of the Monster (1956)
Black Sleep (1956)
Carousel (1956)
The Man Who Turned To Stone (1957)
The Unearthly (1957)
Journey to Freedom (1957)
Plan 9 from Outer Space (1959)
Night of the Ghouls (1960)
The Beast of Yucca Flats (1961)
Head (1968)[1]
Gallery
Sources
Community content is available under
CC-BY-SA
unless otherwise noted.