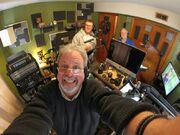 Total Riff Off is a series of RiffTrax specials that aired on National Geographic Channel as well as NatGeo Wild!. They feature archive footage of previously aired National Geographic material with audio commentary by Michael J. Nelson, Kevin Murphy and Bill Corbett.
Episodes
The first series originally aired on April 1, 2014 and was repeated once that same evening. A second series aired on December 16, 2014.
Series one
"Killer Shrimp N' Friends" [1]
"Demon Bat" [2]
"Guy and a Goose" [3]
Series two
"Man V. Monster" [4]
"Animals Behaving Badly" [5]
"Brazilian Bigfoot" [6]
Home Video
All episodes are available as Video-on-Demand releases directly from RiffTrax.
External links
Community content is available under
CC-BY-SA
unless otherwise noted.