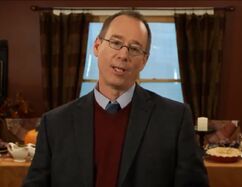 On Thanksgiving Day of 2013, Shout! Factory produced an online 6-episode marathon of Mystery Science Theater 3000 episodes, hosted by Joel Hodgson as himself (rather than in character as Joel Robinson).
The event was produced (in part) to promote the 25th Anniversary boxed set, and commercials for the boxed set appeared between the experiments. Other than that, there were no commercial breaks.
Some host segments/interstitials from previous Turkey Days were also used.
Hodgson selected the episodes, taking suggestions from fans via Twitter. He was reportedly impressed by several of the Sci-Fi Channel era episodes with which he had been previously unfamiliar. 
At the end of the last Host Segment, Tom Servo and Crow T. Robot made a brief cameo, joining Joel at the dinner table. Neither of them spoke. Cambot was addressed (see below) but did not appear. Gypsy did not appear, nor did any of the Mads.
Host Segments
With the aid of Cambot, Joel Hodgson provided hints to the next movie and to test viewers' MST3K Literacy:
Schedule
12:00 PM - Space Mutiny
1:30 PM - I Accuse My Parents
3:15 PM - Werewolf
4:50 PM - Cave Dwellers
6:30 PM - The Final Sacrifice
8:10 PM - Mitchell