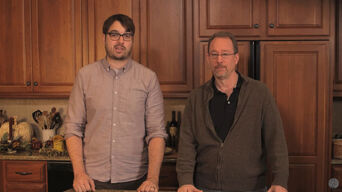 On November 14, 2016, Joel Hodgson and Jonah Ray announced on MST3K.com that the 2016 edition of the annual Turkey Day marathon would stream beginning at 12pm ET / 9am PT on Thanksgiving Day (November 24). The stream was available to view at ShoutFactoryTV.com and Youtube.com. It presented the six highest-ranking (available) episodes based on a poll held earlier in the year.
Live stream schedule
The classic MST3K episodes scheduled for Turkey Day '16 were not announced in advance, in keeping with the tradition of not revealing the episodes until Thanksgiving Day. Since the episodes were determined by popular vote, it included episodes used in previous years:
The breaks between each classic MST3K episode featured brief appearances by Joel and Jonah, with passing reference to the forthcoming new season. It also included promos for various Shout! Factory and RiffTrax material.