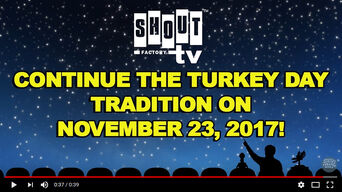 On November 09, 2017, Shout! Factory announced the 2017 edition of the annual Turkey Day marathon via the official MST3K Youtube channel. [1]
The AV Club web site confirmed that the marathon would begin at noon ET on Thanksgiving Day (November 23) and would stream on the Shout! Factory TV web site and through the Shout! Factory TV app. The AV Club also stated that the marathon would feature "six episodes never before seen during Shout!'s now-annual" marathon. [2]
Live stream schedule
The breaks between each classic MST3K episode featured appearances by Joel Hodgson, Jonah Ray, and Felicia Day as they discuss their thoughts on the recently-completed season 11 on Netflix. It also included promos for various Shout! Factory and RiffTrax material.
Shortly after the conclusion of the marathon, Joel, Felicia, and Jonah released a short video confirming that Netflix had ordered Season 12.
References