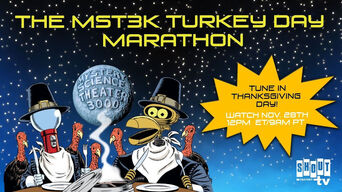 Turkey Day '19 was a marathon of six Mystery Science Theater 3000 episodes that streamed live via various online services on November 28, 2019. [1]
After Turkey Day '18 aired ahead of Thanksgiving itself, to make way for the debut of Season 12 on Netflix, Turkey Day '19 returned the event to its traditional airdate of Thanksgiving Day.
The schedule was nearly identical to the schedule from Turkey Day '13, with the exception of The Final Sacrifice being swapped out for Laserblast. This is likely due to Shout! Factory losing the rights to The Final Sacrifice.
Host segments were shot during the Great Cheesy Movie Circus Tour and featured Crow T. Robot (Nate Begle), Tom Servo (Conor McGiffin) and Gypsy (Yvonne Freese).
While it streamed on Pluto TV and XUMO TV apps as well as other streaming services (including Twitch), the Turkey Day Marathon did not stream on YouTube.
Live stream schedule
References
Community content is available under
CC-BY-SA
unless otherwise noted.