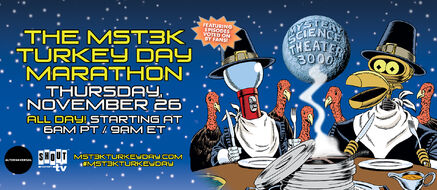 Turkey Day '20 was a marathon of eight Mystery Science Theater 3000 episodes that streamed on various online services on November 26th, 2020. [1] It was the earliest start for an online Turkey Day marathon, starting at 9:00am EST / 6:00am PST.
For this year's schedule, fans were given the opportunity to choose what episodes would play during the marathon via a tournament posted on MST3K.org, using SquareOffs for each of the episode polls. The initial tournament round featured two episodes for each bracket from a selection of sixteen. For the next round, the top eight episodes went against eight new episodes. Round 3 saw the top eight episodes of the previous two rounds competing against each other until one top episode remained. Voting began on October 15th and ended on November 20th, with Pod People winning. [2]
On November 26th, Lesley Kinzel announced that two additional Jonah-era episodes would be added to the lineup, along with a short featuring Emily Crenshaw.[3] The MIGIZI shorts were also shown, along with several clips, host segments and short interviews by Joel Hodgson with Storm DiCostanzo and Paul Sabourin.
Live stream schedule
All times are approximate and reflect Eastern Standard Time
Credits
Cast
Crew
Written by Matt McGinnis and Tim Ryder
Behind the Scenes at the Supermarket (MST3K Live Edition) written by Nate Begle, Harold Buchholz, Yvonne Freese, Gary Glover, Tammy Golden, Joel Hodgson, Lesley Kinzel, Emily Marsh, Conor McGiffin, Matt McGinnis, Tim Ryder & Sharyl Volpe
Produced by Joel Hodgson, Matt McGinnis & Sharyl Volpe
Edited by Ryan Ritchey
Props by Chris Palmieri
Graphics by Seth Robinson
Specialty Puppet Work by Seán McArdle & Chris Palmieri
For MST3K.org...Lesley Kinzel
Accounting...Mike Miller
Special Thanks to John Krasno Paul & Storm
References
Community content is available under
CC-BY-SA
unless otherwise noted.