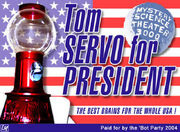 I am huge MSTie as you can see and out of all the 40 plus wikias
My Favorite Pages
What I Wish to Contribute to This Wikia
Provide information on books or podcasts by the MST3k cast as well as fan-made published books. Examples include Mike's various comedic novels and film commentary encyclopedias, Trace's various comics and picture novels, Frank's continuing Podhouse 90 podcast, Mary Jo's upcoming "Awesome Music from Bad Movies Kickstarter project, Joel's upcoming MST3k reboot and even Kevin's A Year at the Movies classic work.
Provide pages and links to other valuable MST3k-related websites that kept not only the spirit of the show alive but who we also owe many thanks to from the various images, information and other content made available on their sites. If I'm able to make more time, I'd love to even list some of the other now-defunct sites that used to be visited prior to being sold/their Geocities account going away.
I will provide various pages on noted actors and filmmakers appeared in any movies for MST3k, The Film Crew, Cinematic Titanic and RiffTrax. I'm not particularly picky about images given how most of the films on this show aren't in great resolution to begin with (even on higher definition DVDs) but if you ever find a better image of anyone, feel free to replace them. The actors I add pages for should either be from a MST3k episode or appeared multiple times on any of the shows. Anyone seen in an iRiff is ineligible given how that's fan-made and not from an official MST3k/etc. episode. If anyone's having issues finding the actor/actress/filmmaker in the episode, it's alright to just find a general picture of them and list the episodes they appeared in and worry about the gallery later.
Famous celebs who happen to be MST3k fans are best to only add if they were also guest riffers. On rare occasions, we sometimes add material or references that don't need to be added.
It's best to add to existing pages or create new pages about pop culture/running gags only if it's consistently always mentioned/brought up (Ex: Gypsy's obsession with Richard Basehart, The Muppet references page). Try not to add pages for something that was only from one episode unless it truly is a landmark MST3k episode as evidenced by the various Gamera, Manos, Rowsdower, etc. pages on here.
Try not to add many pages about Stunt Performers unless they appeared in a MST3k episode (and can be found as well). If they appear in episode for the other MST3k installments, it's best to once again only add them if they are rather famous or have been in more than one to two episodes. But once again, if like any of the actors, you can't find them in the episode(s) and they've done less than two episodes, just move on and don't bother with it. If they've appeared in over twenty and you still can't find pictures of them, it's still fair game to add a page for them but again just know when to be bothered with it much like the actors or filmmakers.

I'm probably not going to bother with any of the pages on the shorts episodes unless they're from MST3k (Commander Cody episodes) or the newest 1940s' Batman shorts that RiffTrax put out since they aren't always a key reference point on the series.

If we want to make pages about the times certain shows/films/celebs have mentioned MST3k or make a page that lists all of these things and people, by all means go ahead. (Ex: Space Ghost Coast to Coast) We could also definitely use some updates that would fit the bill for the "Other projects by MST3k crew category. We could also easily detail Joel's appearance on Saturday Night Live (which is stellar BTW), other stand-up Joel, Mary Jo & Co. can be seen in, films they've made appearances in (God Bless America, With or Without You, Triptosane, Steven Universe, Darkstar, I Confess, Statical Planets, The TV Wheel, Totally Biased, Talk Soup).

I'm not sure if we're supporting any MST3k artists or fan pages (probably unlikely at best for now- despite having a few amusing demotivational posters and memes on the main page, let alone, my user page). If you're unsure but wish to have it on the wikia, just create a blog and post those images onto there for now, among other related projects. MST3k has always been rather reliant upon it's fan support, hence it's cult reputation, so if anything, any fan-made merchandise that corresponds to the episode (whether it be a fan letter seen in the episode, an MST3k Info Club. exclusive, fan-made t-shirts/Deviantart posters/memes/demotivational posters/etc.) should be harmless and fair to add to here.

If one is going to add an incomplete page due to having lots of information if not everything ready at the moment, just do everyone else a favor please and add it to the "Stubs" category so that everyone else who's more familiar with the regular proceedings can update it accordingly. Last of all, have fun for goodness sakes- you have to be able to have fun on a MST3k wikia after all. I'm not trying to sound like an expert, just giving what advice I can so peace out. :)
Community content is available under
CC-BY-SA
unless otherwise noted.