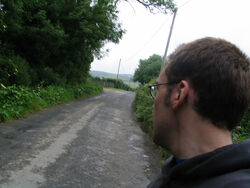 Hi. My name is Hugh Beaumont. However, I am not
that
Hugh Beaumont
. I am just a guy who likes Hugh Beaumont and his works and, so, goes by his name on the Internet. So, if you expected me to be
the
Hugh Beaumont, you will be sadly disappointed, especially since he died over 20 years ago. I am a twentysomething man living in, and desperately trying to get out of, New Jersey. I aspire to write things, do things, go places, know people, and do certain things with those people. That is the extent of
this
Hugh Beaumont.
Contact
Wiki: User talk:Hugh Beaumont
Email: yourwalletphotograph at yahoo dot com
Otherwise, sorry, but I'm a relatively private person.
Links
Blah blah blah, this space is coming soon.
Current Projects
Well, I just had a mad posh for making a Peter Graves page, so I whipped the most comprehensive one up that I could manage. I'm quite proud of it. Some say that a Peter Graves page is frivolous, but I say NO! I don't want to live in a world where Peter Graves is considered unnecessary. Nay, I say... nay.
--Hugh 09:56, 20 January 2007 (UTC)
Community content is available under
CC-BY-SA
unless otherwise noted.