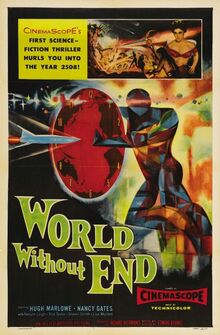 World Without End (also known as Flight to the Future) is a 1956 science fiction film in CinemaScope and Technicolor from Allied Artists, produced by Richard Heermance, directed by Edward Bernds, and starring Hugh Marlowe and Nancy Gates. It was the subject of the first Mystery Science Theater Alive! live show in 1992.
World Without End features an early screen role for Australian-born Rod Taylor. The film was distributed on a double feature with the Lon Chaney Jr. film Indestructible Man.
Community content is available under
CC-BY-SA
unless otherwise noted.